If you are just stepping into the world of makeup and beauty, the common rite of passage is to start with buying NYX professional makeup cosmetics. Well, this is not really surprising considering all the hype that NYX gets. After all, who wouldn't want to get the same quality as high end brands but for a much cheaper price?
With product prices not going more than $25, the NYX brand easily fills in the gap between more luxurious beauty products and their drugstore counterparts.
Another thing that is even more exciting here is that NYX has a very diverse and extensive product range. This means that makeup fans can have a great time discovering and experimenting with different choices at a fraction of a cost.
Without further ado, here are the bestsellers under the NYX brand that definitely deserve a special spot in your makeup kit:
NYX Primers
No other drugstore brands can surpass NYX as far as primers are concerned. Most primers you can get from NYX have become a hit among makeup aficionados.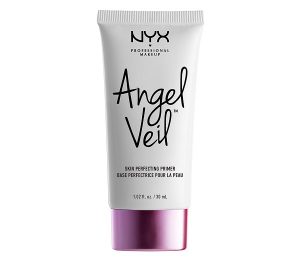 For those who have dry skin, you can count on the hydrating and luminizing primers to do the job. Shine control and pore-filling primers can also work wonders for dry skin type.
But out of all primers from NYX, Angel Veil Primer is the most acclaimed one as this is considered as the perfect dupe for the ultra pricey Hourglass Veil Mineral Primer.
Although NYX primers are not the cheapest you can get at drugstores, they are the most reliable and this is what makes them different from the rest.
NYX Total Control Drop Foundation
If you are shopping for a foundation with a velvet matte finish that comes with a drugstore price tag, NYX Total Control Drop Foundation is exactly what you need.
The main concept behind this total control phrase in the name is the fact that you can build up this foundation's coverage if needed with no need to worry that it will turn uneven or cakey.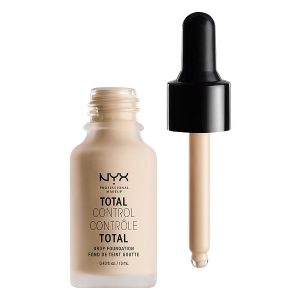 You will also surely fall in love with the extremely liquid-like consistency of the foundation. Thanks to this, you will have an easy time blending it out with a beauty sponge or best makeup brushes before it dries down.
If your skin is dry, make sure that you moisture it first before you use the foundation to ensure that it doesn't cling to dry skin patches.
NYX Gotcha Covered Concealer
It is a bit tricky to recommend concealers to others because they work for some but not for others. Gotcha Covered Concealer from NYX professional makeup has a much thicker consistency compared to what you might have been used to. But the good news is that it doesn't feel too heavy on your skin.
Keeping up with the dupes trend of the brand, many people hail this conceal as the best dupe for Cosmetics Bye Bye Undereye Concealer due to its coverage and formula.
Since coconut oil has been added to its formulation, this is not recommended for people with super oily skin. On the other hand, even if you don't have oily skin, it would be better if you can use it sparingly and use powder to set it.
For its cheap price of $2.99, this concealer is definitely a must-try.
NYX HD Finishing Powders
Just like most face powders that include HD in their title, NYX HD Finishing Powders often cause a slight flashback. But, this is still a great option if you have no plans to use flash photography.
NYX translucent HD powder deserves to be a staple part of your makeup collection. It is finely milled so it can smooth out your skin and makes it look almost poreless without making your dry skin appear drier.
It is still a mystery how NYX cosmetics came up with such as amazing powder formula, so grab the chance to enjoy its cheap price tag. 
NYX Epic Ink Liquid Eyeliner
You will never be able to resist the applicator of the NYX Epic Ink Liquid Eyeliner as it is exactly the same with that of the classic Kat Von D Tattoo Liner but a more affordable price.
While its formula is not completely matte, it is very long wearing with an easy to use package for perfect precision.
NYX Sweet Cheeks Blush Palette
Face palettes are convenient and ideal for your travels and this is exactly what NYX Sweet Cheeks Blush Palette is all about. This is an inexpensive palette with 8 blush shades in various finishes and undertones. This gives you lots of choices for whatever makeup look you want at the moment.
While its price is a bit steep compared to other drugstore blush palettes, the pigmentation and quality of each shades is what makes this NYX professional makeup product a good value for your money.
NYX Dewy Finish Makeup Setting Spray
Every makeup arsenal definitely needs setting sprays and it is a no-brainer to choose Dewy Finish Makeup Setting Spray out of all options out there.
For people with dry skin, it would be great to get all the dewiness possible and this setting spray can give you just that. Your makeup can last longer with the help of this spray though it can make your skin look "wet."
Meanwhile, if you have an oily skin type, Matte Finish Setting Spray is what you need as it does exactly the same things like its dewy counterpart less the dewiness.
NYX Glitter Primer
All ladies need a glitter primer at one point which you can buy at PinkPanda cosmetics shop. In fact, even if you are not keen about glitter, there is a big chance you will need this kind of product and you won't even know it.
NYX Glitter Primer with its tacky finish allows any type of glitter, pigment, or eyeshadow to stick to it like glue. Once dry, you can expect that it will stay there until the day ends.
These are just some of the bestsellers under the NYX professional makeup brand that you would definitely love to get your hands on sooner than later.
Posts from the same category: