Makeup brushes play an important role in achieving that airbrushed and flawless appearance so you can be confident every day. However, with all the different types of brushes that you can find on the market right now, buying one can be a quite intimidating experience.
If you were able to get yourself a multi-pack set, there is a high chance that you don't know the names of all the brushes there, nor can you identify their specific unique uses. Of course, you can always use your finger to apply your foundation as this has been the tried and tested way all this time. However, if you really want to become a professional in the world of beauty and graduate from being a mere amateur, you can only make this happen if you arm yourself with just the right knowledge.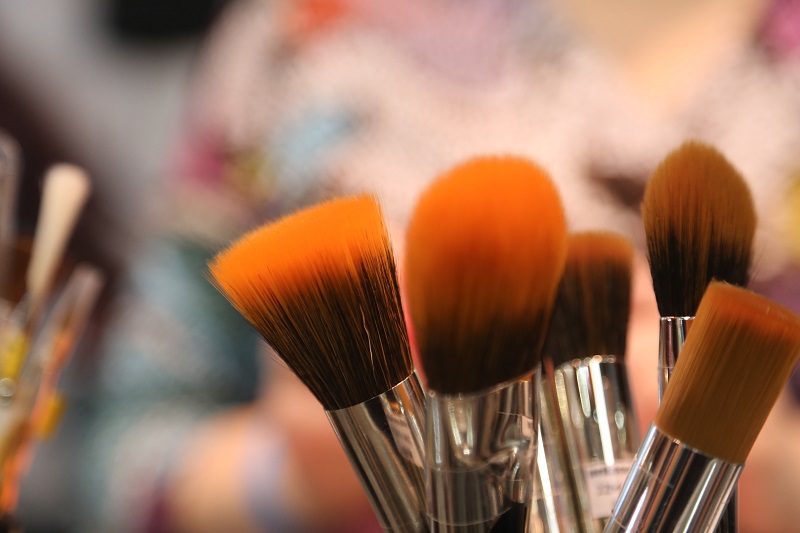 Check out this short guide on makeup brushes so you can be familiar with them for you to slay the makeup game in no time at all:
Tapered Foundation Brush
This particular makeup brush is used for the precise application of blush, highlight, or foundation. These particular brushes are often flat with gentle tape and less full in form. These are ideal to use for liquid foundation as well as other liquid products.

Powder Brush
The powder brush is used to gently dust loose powder products across the face. These brushes are generally full-fibered and thick brushes, either natural or synthetic with a versatility to do several beauty jobs. It is an omnipresent brush that is a must-have in any makeup arsenal.

Kabuki Brush
The kabuki brush is use for applying body shimmer or loose powder. Kabuki brushes are among the most impressive looking makeup brushes you can find. These are usually of bigger variety with compactly packed fibers. These are best used with loose powders on face and body.
Stippling Brush
Stippling brushes are used to create an airbrushed and flawless look. Stippled brushes have striking appearance as their fibers have two unique lengths. The brush has a full-fibered bulk with long fibers that are interspersed and tightly packed. These work well for layering different makeup levels.
Contour Brush
The contour brush is used for achieving defined and angular facial structure and cheekbones. Since contouring can be a quite complicated skill in makeup application, you need a brush that is specifically meant for this. These angled brushes are better than flat brushes as they let you follow your face's natural curves.
Beauty Blender
Beauty blenders are used to apply dry and wet foundation, concealer, highlighter, and blush. There is a good reason why the beauty blender and other types of similar makeup sponges are a favorite. They are great for applying different cosmetics products, such as primer, topical creams, or sunscreen. But, the most common use of this is for foundation application and for blending blush, highlighter, and bronzer.
Silicone Blender
The silicone blender is used for the seamless application of foundation and for blending products. In general, silicone blenders are flat and teardrop or oval shaped. The best thing about the use of silicone blenders is that they don't absorb anything, which means that you won't waste any precious product.
Blush Brush
The blush brush is used to apply blush that will give you that youthful and fresh-faced rosiness. Blush brushes are surprisingly the same with powdered brushes. Blush brushes are generally a bit stubbier, though, as they cover a smaller area compared to powder brushes.
Fan Brush
These makeup brushes are used to apply highlighter, blend out dark lines, and brush away any makeup mistakes. Fan brushes are shaped like a fan, thus the name. These brushes are the perfect basic you can add to your makeup toolbox due to their multi-use functionality.
Eye Shadow Brush
The eye shadow brush is used to apply swaths of general color on your eyelids. General eye shadow brushes are small, often stubby brushes meant to sweep eye shadow across the upper eye and lid area. It is an amazing tool that can also be used for eye shadow primer.
Angled Eye Shadow Brush
These brushes are used to smudge and contour eye makeup. For more professional beauty lovers, angled eye shadow brushes are the best addition to any makeup set. This can be used for adding intense colors to the eye's corner for exact smudging and lining the crease with contrast color.
Eye Shadow Crease Brush
The eye shadow crease brush is to create a depth illusion and add a dramatic contrast to the base lid color. These brushes have gentle taper to allow tight precision as you add in some final touches to your smoky eye. These can also be used for layering pigment in the natural fold of the eye lid.
Eyeliner Brush
The use of the eyeliner brush is to add liner to create a cat-eye look or fuller eyelash line. Eyeliner brushes serve numerous purposes with the first being for the eyeliner.
Brow Brush
The brow brush is used to tame and style the brows. Many of these brow brushes are double-sided with a brush side and a comb side. A duo brow brush can even be used for calming even the thickest of brows. The comb is first used to form and straighten the brow shape. The brush side is then used to apply the brow product whether it is a gel or powder.
Spoolie or Mascara Wand
The mascara wand is used for applying mascara to the upper and lower eyelash lines. A mascara wand is a handy tool that everyone must have. These brushes help define and separate eye lash. Before applying mascara using your spoolie, the eyelash curler can be used to create a fuller and more dramatic effect.
Makeup brushes and their different and specific uses could be a somewhat complex puzzle to solve yet it is definitely worth your trouble. You can take your beauty game to the next level when you know the types and how to properly use them.
Posts from the same category: